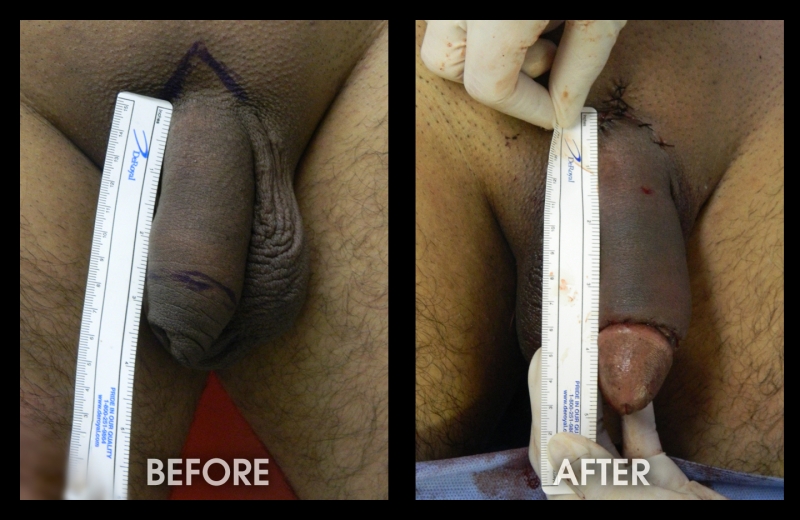 Dr. Chugay  offers penile augmentation via lengthening or via increase in girth, or both.  The lengthening of the penis involves release of the suspensory ligament of the penis via an incision just above the shaft of the penis. This can increase length by 1-2 inches.  As far as increasing girth, there is augmentation via fat transfer (typically from the abdomen) using stem cells or augmentation via alloderm implantation.  With fat transfer with stem cells, we are able to achieve an 85% take in fat with a maximal increase in girth of 40%. Alloderm (cadaveric dermis) can be wrapped around the shaft of the penis to increase girth by 40% as well.
Possible complications for the above procedures include infection, compromise to penile circulation with possible skin necrosis, bleeding, and anesthesia risks.
Anesthesia
Dr. Chugay utilizes a combination of local anesthesia and IV sedation. You will be asleep and comfortable during the procedure. The risky general anesthesia is not used. Dr Chugay is pleased to offer Goldilocks Anesthesia.
After Your Surgery
Post operatively, patients are restricted from sexual activity for one month.  Pain is controlled with oral pain medications.  When considering penile lengthening, a specialized stretching apparatus is also recommended post operatively to prevent scarring and maximize lengthening.  This begins 1 month after surgery and continues for 5 months.